Hey guys, Welcome back to Tricks Crunch, in this article, I'm going to tell you how to get Spotify Premium free. So if you want to create Spotify Premium Account for Free, then continue reading this article. It will be beneficial for you. You can also try Spotify Premium mod apk.
In my previous article, I've shared Spotify Premium Apk that many peoples loved a lot and some peoples asked me to share Working Tricks to Create Spotify Premium Account Free, so I searched about this topic and finally got some methods that I'm going to share in this article.
Also Read: Spotify Premium APK Download
Nowadays, everyone loves to listen to music, and everyone wants the latest music on their phone, that is why Spotify Becoming day by day so popular. If you also like to hear the most recent music on your phone, then I'm sure you have also used Spotify before.
But If you use Spotify free version, then you know that how much is irritating watching ads while listing to music that's why they have launched their Premium Subscription where you won't see any ads and get many new features, but many peoples can't afford the Spotify premium subscription.
That's why they are searching for "How to Get Spotify Premium for Free." I know you are also searching for this, that's why you are here 🙂 but don't worry now your search is over because far I have come here with few methods to get Spotify premium subscription for free so let's get started.
How To Get Spotify Premium For Free
---
So basically in this article, I'm going to share methods which can be used to get Spotify for free so let's get started. All methods are working on every platform like Android, iPhone, and Windows, so you don't need to worry.
Spotify Premium Free via Trial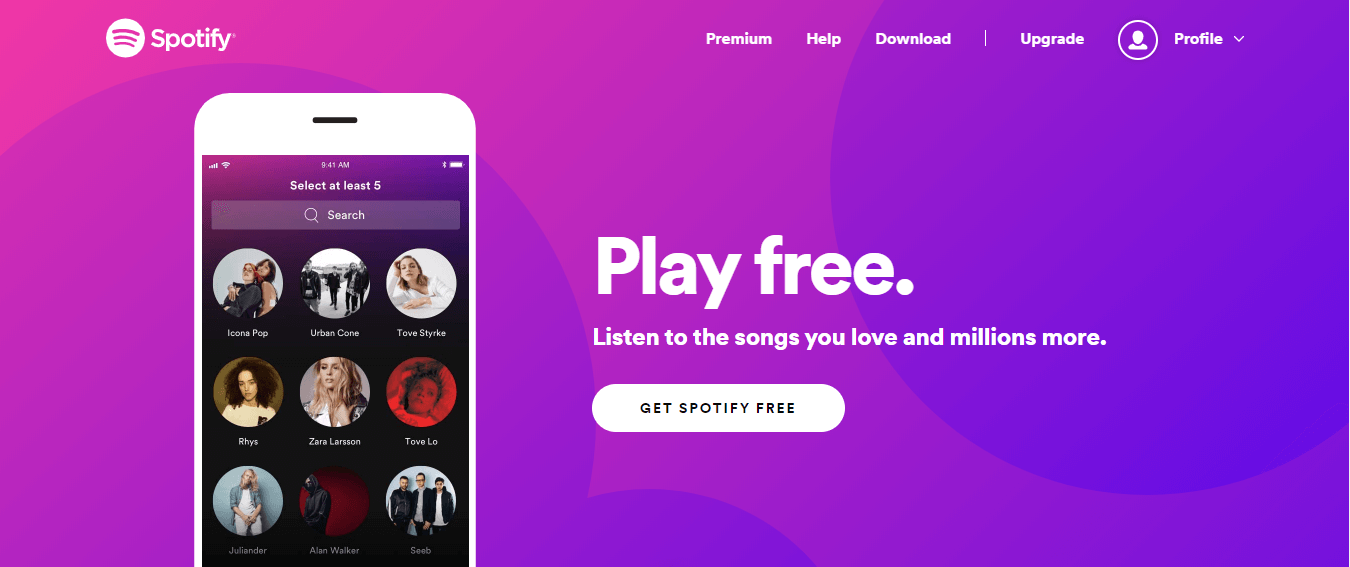 This method is 100% legit and working for all time only you need a Credit Card, Debit Card, or PayPal Account. So if you have Credit or Debit Card or PayPal Account, then this method is best for you and highly recommended by me. Using this method, you can get 30 Days Spotify Premium For Free, Let me tell you to step by step procedure for this method.
First of all, Visit on Spotify Official Site and Head to site bottom.
There you will see a 30 days free Spotify Premium option click on this.
Now click on Signup On Spotify then fill your details and Verify I'm not a robot then tap Sign Up.
Now fill your Card details and Click on Start 30-Days Trial Now.
Congrats! Now you got Spotify Premium 30 Days Free.
Don't forget to cancel the subscription before trial end date; otherwise, you will be charged for the monthly subscription.
Free Spotify Premium Via VCC
---
Using VCC to get Spotify Premium For Free is one of the best method and 100% legal If you don't know what is VCC then let me tell you.
What is VCC?
VCC full form in Virtual Credit Card, A virtual credit card number is a randomly-generated card number associated with your actual credit card. Depending on the issuer, you may be able to set a maximum charge for the virtual number, further protecting your transaction. And typically you can set it to expire in anywhere up to a year from its creation date.
How To Get VCC That Works with Spotify
Well, not every VCC work for Spotify but still, there are some VCC Providers that work for Spotify. here is the list of them.
Entropay
Privacy
Boon. Payment
So these are VCC providers that work with Spotify to get VCC from them simple register on that after that you will get your virtual Credit Card.
How To Get Spotify Premium for Free Using VCC
Now you know what is VCC and How to get it but do you know how to use it to get Spotify Premium for Free? Maybe yes but if not then don't worry I'll tell you.
This is very easy procedure only you have to go on Spotify website and then click on Get Spotify Free and then signup for a new account and on the payment page fill out your VCC details, that's it.
Spotify Premium Apk
With the help of Spotify Premium Mod Apk, you can use Most of the Spotify Premium Features for free, This is my favourite method because in this method we don't need to buy Spotify premium subscription that means it's free for lifetime only you need to download Spotify Mod Apk that is Completely free.
What Is Spotify Premium Apk?
Spotify Premium Apk is a Modded version of Spotify App that made by 3rd parties. Using Spotify Mod, you can use Spotify Premium features without Premium Subscription. You can play any song that you want, as well as find and hear playlists, discover new music, create and edit playlists, share music and playlists, and listen to tunes picked by Spotify's Radio feature also skip any track, listen offline, hear high-quality music and unlimited shuffle play.
You can download the Spotify Premium Apk by clicking on Below Download Button.
If you don't have an android phone or you are using pc then you can use this app using an android emulator.
Spotify Premium Giveaway
Yes, now you can win a Spotify Premium Account in the giveaway that is specially made for our visitors we do daily 5 Spotify Premium Account on this website you can join that without any login and registration for full information check out this post.
We also do Many Spotify Premium Accounts Giveaway on our Telegram Channel so if you want to participate in the Spotify giveaway then join our telegram channel by clicking on below join button.
At last, this post is all About Spotify Premium For Free where I have few Methods to Get Spotify Premium Account for Free, I hope you had liked this post, and It helped you in getting Spotify Premium Free. If yes, then please share this post with your family and friends and keep visiting on TricksCrunch.com for such great content like this 🙂 Thank you!